By: Sarah Arnesen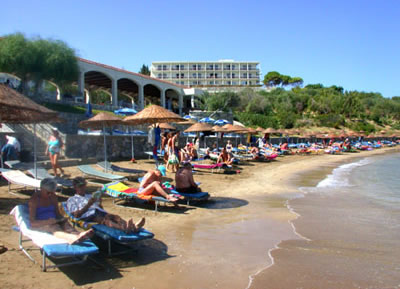 The Mediterranean has sun, sea and sand in abundance, and boasts some of the world's best beaches. Several of these are in North Cyprus, and if you go on holiday there you're in for a treat. The problem is that you are spoilt for choice. With so many beaches on offer, which ones should you visit or stay close to? We count down the top five to help with your choice.
Silver Beach is south of the ruins at Salamis, and those who want a varied holiday in North Cyprus can combine the joys of this beach with the history and culture on offer in this famous area. The beach is also varied in terms of activities, with a reef that is great for snorkelling and exploring; there are huge numbers of fish and interesting types of marine life to be discovered among the ancient jetties in the cove. The cove is also suitable for younger children due to the shallow shelving of the sand, so the whole family can enjoy the area at any age.
Glapsides Public Beach, Famagusta
A short drive from Nicosia, Glapsides Public Beach is great if you are staying in the capital and looking for an accessible beach. It has excellent facilities, with local a mini market, bar, restaurant and showers, as well as dolphin rides designed to make any holiday to North Cyprus special. The beach is busy, but the atmosphere is friendly, with the beach's users being mainly young people and families. There is also dance and club music played by DJs on the beach for people who like to party in the evenings.
Alagadi Turtle Beach, Kyrenia.
Alagadi Turtle Beach is for those who want to experience the natural side of North Cyprus beaches. Holidays to Kyrenia are enhanced by visiting this beach, where you can see green and loggerhead turtles come and lay their eggs in the summer; there are cordoned off areas of the beach where you can enjoy the sea and sand as usual while protecting the ecology of the local area.
Escape beach is interesting from an enjoyment and historical perspective. The beach is known as Yavuz Cikarma Plaji, the area where the Turkish Troops landed during the Peace Operation in 1974, but is now carefully landscaped with lush grass and beautiful flowers.
On the beach proper there are a plethora of water sports available, from jet skiing to banana ride, canoeing to pedal boats and from snorkelling to scuba diving. The beach also has a volleyball area, restaurant and bar, with all the facilities you could ask for. The beach has an incredible mix of activities and history for you to enjoy on your Holidays in North Cyprus.
Our number one beach is less one specific beach and more a series of remote beaches. The Beaches in Karpaz are more secluded, and appeal more to those on luxury holidays to North Cyprus because of their isolated and much more exclusive nature. Each beach in the area has its own charm; the beach at Kasa was an ancient harbour called Karpasia; Yeni Erenkoy is a public beach with showers and hot food available; and there are small coves along the Karpaz peninsula itself that offer utter seclusion. Karpaz has the greatest variety of beaches available, and staying on or near the peninsula gives you complete choice while on holiday in North Cyprus.
Author Resource:-> Sarah Arnesen is the Marketing Manager for Anatolian Sky, a company offering incredible holidays in North Cyprus (http://www.anatoliansky.co.uk/Home/Holidays-in-North-Cyprus.aspx). They provide holidays to the entire Anatolian region, including Asia Minor, Cyprus, and Turkey itself.
Article From
Free Travel Articles